Client Testimonials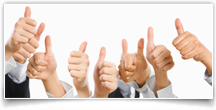 Trust, competency, and performance are important, but our most rewarding responses from our clients are when they look at us in the eye and say thank you.
Our sense is that they are thankful for us being there, answering questions, being a little proactive, allowing them the opportunity to reduce the worry and stress in their life.
A client told us tearfully that she and her husband have not fought over money since they hired us. Another said, he is so happy to have someone who will pull the trigger when necessary, something he wouldn't do.
We regularly have clients reporting back that the biggest take away is that they don't worry about all the stuff anymore.
---
---
MFA team has been helping me manage my investment strategy for the past six years. I was introduced to MFA through a mutual acquaintance. Just about that time that I was anyway looking for some one who is independent ( i.e. not related to an institution that also has its own investment products), can guide on a broader range and not just short term tips on where to park my money for quick returns - i.e. taking a long term view of what my financial objectives are over - say a 10 year or longer horizon - and how to meet those objectives systematically. My experience with MFA so far has fulfilled that expectation completely - with the quality of guidance I have received and with their responsiveness to my ad-hoc requests for information or guidance.
---
Ihave found MFA to be a complete end-to-end goal based planning firm, who has worked with me to look at my financial needs in a holistic manner.
---
MFA has helped me align my investments to meet our family's goals; something that my bank's portfolio managers were unable to achieve. I had accumulated several products over a period of time but did not feel confident about the quality of advice I received. I am glad, I have trusted Amar Pandit and his team to monitor my family's financial health.
---
Chitra is more than an coach and servicing person, she's a friend. Very friendly,always helpful and very prompt in her response. I tell them that MFA is easy to work with, they try seriously to understand one's needs and provide advice and solutions that are practical and tailored to one's financial objectives. They are also very proactive.
---
MFA and my financial coach have managed to demystify financial planning for me. This is very helpful to stay focussed on the primary responsibility that I have.
---
MFA made me aware of the importance of goal based planning to mitigate all possible risks which we generally tend to ignore, being it under insured or over relying on one instrument such as Savings Account or FD. They have a comprehensive process that maps your financial aspirations with your risk profile, based on which they come out with a systematic and disciplined regime of investments across multiple instruments. I have personally benefitted from this approach and their spirited team of people drive the investment discipline in you with a smile on their face.
---
Your team inspires trust. Amar takes pains to explain the details of proposed schemes, the pros & cons.
---
Great guys to work with in difficult times.
---
You facilitate investments based on financial goals. You people are serious and intend to make a difference in the life of people who avail your services.
---
MFA tends to address a niche & important need for most professionals and despite the market uncertainties the friendly professionals tend to keep a touch of coolness to the whole process.
---
Ihave been associated with MFA and Mr. Amar Pandit since last five years. Mr Amar Pandit is one of the few Certified Financial Planners in Mumbai today. I had given my financial goals to MFA in the beginning. Very politely they told me that the aims were unrealistic. MFA and Amar have helped me restructure my goals to realistic levels. MFA is guiding on my investments on regular basis. They are up to date on stock market conditions. The staff is very friendly and efficient. I aim to continue utilizing the services of MFA for the next decade after which I shall take their advice to plan my retirement.
---
Though I am taking the investment services from Myfinad since last 7 months only, but still I am in a position to commit that this hardworking Myfinad team, planned to build up my portfolio to sustain and fulfill all my future plans with an adequate safety net for my family and my retirement. Now I have become a conservative spender...thanks to Myfinad team.
---
When earnings are rightly invested, livelihoods flourish. MFA has been proactive in encouraging the growth of an individual's wealth, irrespective of the volatile markets. They have been pushing the boundaries to seek new heights.

They made me realise my potential to become an HNI. You always feel at ease, when you discuss about your wealth plan with the armed fleet of coaches.

Kudos to the whole team who has given life to their great vision.