Don't we all just love Carl Richards !!
As an expert in the field of Financial Planning, Carl has done a huge favor to the entire investor fraternity by simplifying a knotty (yet crucial) subject: Behavioral Finance and turned it into powerful, simple to understand 'Napkin Sketches' in his best-selling book:
The sophistication of his work is in its Simplicity. You have to read it to believe it.
Here, we bring to you a small piece authored by him. We have Indianised the content to make sure that you do not miss the message. We are sure, Carl won't mind that.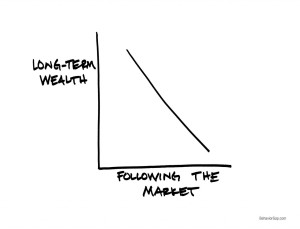 http://store.behaviorgap.com/long-term-wealth/
Adapted from the original article: Does 14,000 Actually Mean Anything? » Read more..