Publication: DNA, Mumbai;   Date: December 30, 2006;    Section: Personal Finance;   Page: 6.
Combining life insurance and pension planning is not right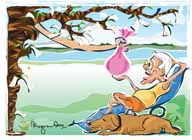 Like childrens insurance plans, retirement plans also suffer from what I call the "label" effect. Right from emotionally appealing advertisements like "Sar Uthake Jiyo" to aggressive marketing tactics, the insurance industry leaves no stone unturned to cause confusion in the minds of buyers of insurance products. So, what exactly are retirement plans, or pension plans as they are popularly known as.
First for some definitions
a. Webster defines pension as a fixed-sum paid regularly especially to a person retired from service.
b. Annuity : A sum of money payable yearly or at other regular intervals » Read more..