Publication: DNA Mumbai;   Date: October 23, 2006;    Section: Personal Finance;   Page: 24
NRIs can earn more from their portfolios by turning to India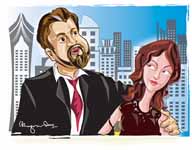 During my last visit to US, I met up with several NRIs including high networth individuals, senior level executives with consulting firms, software engineers and the likes. One thing that was common within this segment was a complete lack of trust in investing in India.
Never mind the destruction the Enrons, Worldcoms or Andersens of the world have wreaked on their portfolios, the comfort level was still very high with US-centric investments. Whether it is ignorance, procrastination or sheer lack of trust, a lot of NRIs were damaging their long-term economic interests by taking emotional decisions.
One such gentleman I met was Aryan Suri, a middle aged corporate execute living in an upscale New Jersey locality. "I have been dealing with an XYZ financial advisors and I have done my financial planning," he said. » Read more..