Publication : DNA, Mumbai;   Date: Aug. 14, 2006;    Section: Financial Planning   Page: 24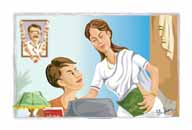 Ajay Mehra, an acquaintance, sought my advice on his insurance needs six months back. He asked me: "Do I need an insurance of Rs 90 lakh?"
I shared my thoughts with him on why insurance is important and how he should go ahead with it. He told me he would take an insurance cover but he did not take any action on it.
Then, one day Ajay called me and said, "I am opting for a unit linked insurance plan (ULIP) which a friend has recommended." He added that the plan has generated 30% per annum returns in the last three years."
After getting to know the details of his policy, I told Ajay that he would be underinsured by a huge margin and that he should go for a much cheaper term plan. A term plan is a pure risk cover. In such plans, in case of death of the policy holder during the period of the policy, his nominee gets the sum assured.