Publication: DNA Mumbai; Date: May 22, 2006: Section: Personal Finance Page: 24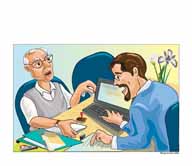 With the Sensex crashing last week, everybody has been trying to answer what do we do now? But my take on it is, does it really matter? Do we really have to try and beat the market?
Let me quote an example from the book the Intelligent Investor by Benjamin Graham, that sums up my point, "I once interviewed a group of retirees in Boca Raton, one of Floridas wealthiest retirement communities. I asked these people mostly in their seventies – if they had beaten the market over their investing lifetimes. Some said yes, some said no; most werent sure. Then one man said, "Who cares? All I know is, my investments earned enough for me to end up in BOCA". » Read more..